There is finally an end in sight for lockdown 3.0, and with restrictions set to lift soon, along with those now-dusty storefront shutters, it's time to get those socially-distanced celebrations back up and running again!
So, whether you're a business owner, who's been out of commission for the past several months, and the idea of hosting a back-to-work lunch sounds like the perfect way of easing yourself and your staff into the swing of things again. Or you're just desperate to reunite the family after being apart for far too long; Hog Roast Rotherham offers the perfect group-dining solutions, which have been professionally designed with your needs in mind.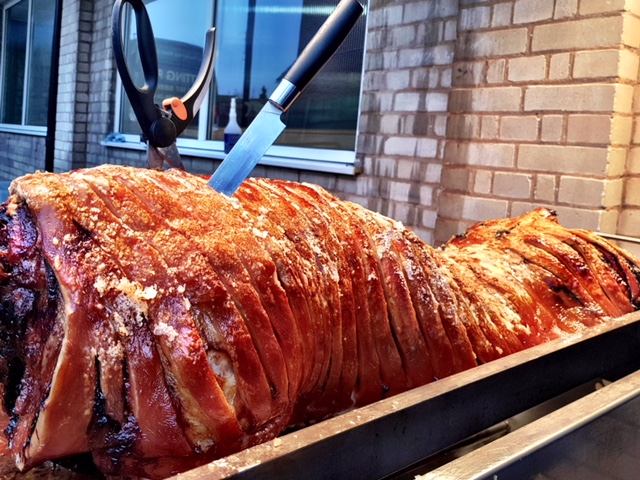 Recently, we've been handling a lot of interest from the former, and in the coming weeks, our catering team has a whole host of corporate-style events lined up, which we're, of course, really excited about!
Connor is our latest client to have gotten in touch with Hog Roast Rotherham regarding a workplace lunch. And, as always, our team was more than happy to help him come up with the perfect catering plan. For Connor, this meant simultaneously balancing all of his colleague's taste preferences, while still being kind to his bank balance too. We didn't disappoint!
Having never used our services before, Connor was both shocked and impressed by how easy our booking process is, and having our catering manager, Marcus on-hand to provide expert advice and insight proved to be a huge asset when it came time to make those all-important catering decisions.
In the end, it was our signature southern slow roast menu that won over this client's heart, with its flavour-packed barbecue-style meat options and those tasty American-inspired sides, which are renowned for enticing guests of all ages. Our Louisiana sticky pork ribs, Cajun-spiced whole roast chickens and BBQ pork butt dishes are to-die-for, but, Connor's menu will also feature our super yummy, BBQ pulled jackfruit wraps, along with grilled veggie skewers and halloumi cheese for those who don't eat meat.
Hog Roast Rotherham is eagerly looking forward to catering at Connor's re-opening celebration, and we hope to impress him with our flavoursome dishes.
If you're looking to host a similar post-lockdown celebration, get in touch with our team today for more information!