Doing your own catering for a party can be a daunting prospect if you haven't done it before and you've got a lot of people to feed. But if you don't want to hire external caterers to help you out, preparing the food yourself can still be an enjoyable experience, especially if you hire one of our hog roasting machines. Here at Hog Roast Eggborough, we don't just offer exciting catering packages for all manner of occasions, we also give you the option of hiring a machine from us so you can give it a go yourself. If you want to relax and have fun with everyone else instead of having to spend all day working up a sweat in the kitchen, a hog roast is the ideal choice for a large event, particularly if you are using some of our cutting edge equipment to prepare it!
Industry Leading Equipment
The Hog Roast Eggborough team design and manufacture our equipment in-house, combining our technical know-how with our extensive catering experience to develop machines that are the best in the business. Our range of equipment varies in size, capacity and functionality, which means we can offer you the ideal piece of kit that will suit your venue, the size of your party and all of your catering needs perfectly. Our machines can be used in any setting and one hog roast can feed as many as 300 people, so you certainly won't have to worry about running out of food!
We will use our experience and expertise to match you to the optimum machine for your requirements and level of experience, and what's more, we will deliver it to your venue, set it up for you and take care of collecting it and cleaning after your event too. This is the ultimate hassle-free way of doing your own catering whilst being assured that if you hire a hog roast machine from us, you will be using a piece of equipment that will guarantee to offer you 100 percent reliability and performance from start to finish.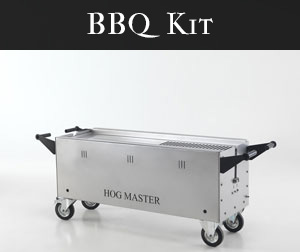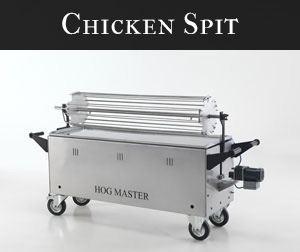 The great thing about hiring one of Hog Roast Eggborough's machines is that it will enable you to impress your guests with the amazing results it produces without you having to put a lot of hard work in yourself. Even if you are a complete hog roast beginner or you have never done your own catering for a party before, no one will be able to tell thanks to the incredibly user-friendly design of our equipment. Of course, we will also be on-hand to give you all of the advice and guidance that you need to give you the confidence to take the helm yourself.
Our delivery team will take you through everything you need to know and provide as much reassurance as you need before leaving you to get on with the preparations for your big day. We can also advise you on where to source the best pork or even provide you with some of our own unbeatable ethically reared meat for the occasion!
With the help of one of our hog roast machines, even the most inexperienced chef will be able to produce mouth-watering, flavoursome meat that everyone will love, whilst also leaving you free to spend time with your guests safe in the knowledge that our cooking equipment is doing all of the hard work for you! Our hog roast machines don't just score top marks on their performance either – they also make a great centre piece for any party and a sociable focal point for your guests to gather around whilst you are busy impressing them with your perfectly cooked pork!
Impressive Results With No Experience Necessary
When it comes to finding a DIY catering solution that will allow you to treat your guests to some great food without any of the usual stresses that comes with preparing the food yourself, hiring one of our hog roast machines is definitely the way to go. You will have the best of both worlds – a consistently high standard of food for a large number of people whilst actually being able to enjoy the party and the food yourself because you wont have to spend the entire event tied up doing the cooking. This low maintenance yet impressive catering option will be the ultimate crowd pleaser for your guests and if you are using one of our machines, you certainly won't have to worry about anything going wrong.
If you would like to find out more about hiring one of our hog roast machines for your event and get a no-obligation quote, drop us a line here at Hog Roast Eggborough so that a member of our friendly and informative team can discuss your requirements with you in more detail and advise you on the best machine to meet your needs.