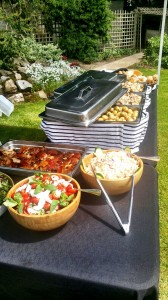 Everyone here at Spitting Pig South Yorkshire would like to start with a big welcome and an even bigger thank you for taking the time to check out our hog roast catering services.
Behind the scenes, we work hard to ensure that all of our expert hog roast catering staff members are trained and experienced in all aspects of event catering, ensuring that Spitting Pig South Yorkshire provides the show-stopping meal time centrepiece no matter the occasion.
With more than 10 years in the business, and with countless numbers of highly satisfied diners along the way, you can rely on Spitting Pig South Yorkshire's premier hog roast catering service to deliver perfect results, every time. We challenge you to put our tried and tested extra servings of flavour, charm, and entertainment to the test!
Our Services – Types of Celebrations
Ask any member of the Spitting Pig South Yorkshire team and we will all tell you the same thing: no two celebrations are the same. Some are big. Some are small. Some have a bride. Some have a birthday. From graduations and leaving parties to charity events, village fetes, and all out public festivals, we can help you to make the right impression and serve up a tasty treat.
Weddings … Our chefs will work with you in carefully selecting a varied wedding menu that offers an exquisite range of mouth watering main courses and filling side dishes.
Private Parties & Garden Parties … Whatever the reason for your private celebration, we can help you to add a touch of mealtime excitement – ask about our drinks reception for those extra special events.
Corporate (e.g. team building days) … Spitting Pig South Yorkshire can help you to turn a corporate event or team building day into a truly memorable group experience with our take on fine hog roast catering.

Indoor & Outdoor catering from Spitting Pig South Yorkshire
One of the most common questions we are asked is whether we provide specifically indoor catering or whether our services are designed for outdoors events. The answer is that our stainless steel eye-catching hog roast machines are capable of operating in all conditions, indoor or outdoor (we require very little room in which to set up if indoor space is limited, and we provide gazebos for outdoor protection against the elements).
Hog Roast Machine Hire
We've been around. We've seen every kind of event and celebration and if there's something we've noticed about all of our customers it's that there's always someone who wants to take charge of the oven/grill! There's something about a delicious communal hog roast that brings out the chef in all of us. That's why we now offer hog roast machine hire.
If you would like to take advantage of our hog roast machine hire options, contact us today for instant answers to your questions. Rest assured, Spitting Pig South Yorkshire will take care of everything. From arranging a drop off at a time and place to suit you, to on the day provisions for extra gas canisters, cutlery, serving tables, gazebos, and much more.