At Hog Roast Thorne we're fortunate enough to be able to get behind the incredible hog roaster near enough every day. As cooking experiences go the hog roast is quite simply one of the best. Its crackling magnificence is rarely lost on us and it is still, even after 20 odd years at this dish, a fun and novel experience every single time. Of course, it would be rude of us to keep that experience purely for ourselves, which is why Hog Roast Thorne offers up our customers the opportunity to hire or even buy our machines directly so that the great hog roast is entirely at their own disposal.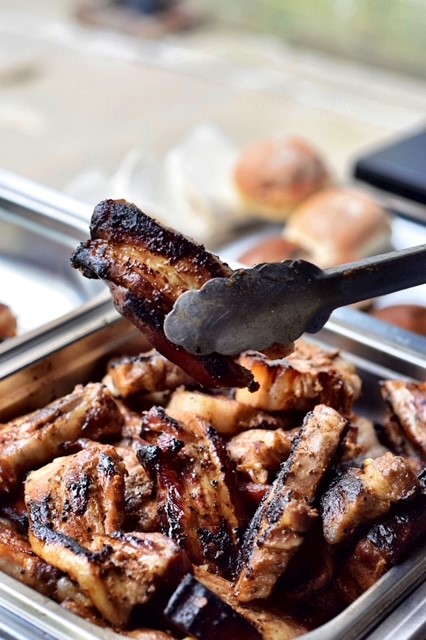 If there's one group that often love to get hot behind the grill it is our dads, isn't it? Well that was certainly the case this past weekend as our wonderful customer Peter was treated to an incredible Father's Day surprise by wife Jean and the kids. We were told that Peter loves little more than to be out in the garden on a fine summer's day and take control of the barbecuing duties. So, with that in mind we gave him the top tier in grilling and barbecuing by providing him with our favourite Hog Master machine to cook away to his heart's content. Hog Roast Thorne also set Peter and the kids up with some top range meats and foods from our very best local sources to let him cook up a proper feast for the family. Never has Peter had such a fulfilling Father's Day as he produced a fine hog roast complete with more side ribs, rolls and sausage, well roasted potatoes, fresh salad and both gravy and apple sauce for that good drizzle. The family could barely move after!
Peter was well chuffed with his gift and vowed to take his hand at hog roasting again. Well Peter, if you ever want a hog roasting machine to call your own you'll know just where to find us! Hog Roast Thorne has got a top range of the very best machines you'll find on the market.