Hog Roast Abdy is always very keen to get involved in local community events, the team was delighted when they were hired to cater for a pub full of lucky guests at a Charity Quiz Night. The Client was Charity liaison Sonya, she was very excited to have a tasty buffet for the paying quiz goers to enjoy.
Client Sonya worked with the Hog Roast Abdy team to come up with a suitably diverse and delicious buffet for the 45 guests to tuck into. As part of the catering package that she and the team put together for the event, the team would provide disposable crockery and cutlery for the guests to use; this would then be gathered and disposed of by the team at the end of the event.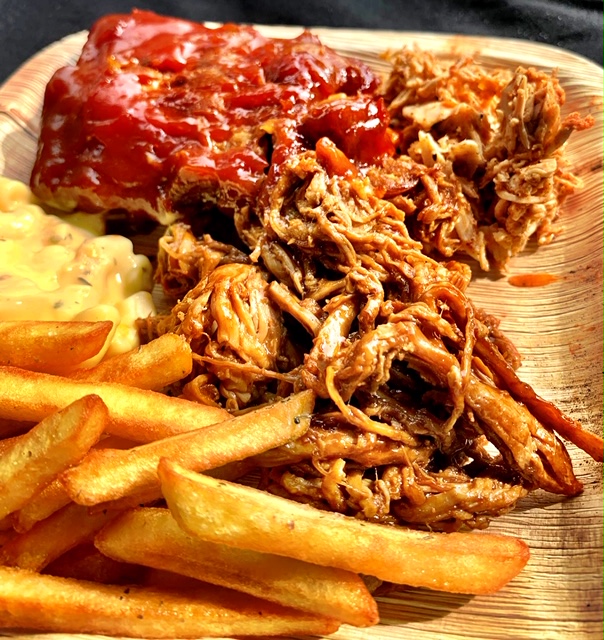 Chef Marcus was the lucky Catering Manager who was given the task of bringing to life the delicious buffet Client Sonya had selected. Marcus arrived at the Pub several hours before the 8pm serving time, this gave him enough time to set up his catering equipment and get to work on producing the delicious dishes fresh and from scratch.
The buffet was an enticing sight and the aroma of the tasty treats filled the pub, leaving the guests smacking their lips and eager to tuck into the food as soon as they were allowed to.
There was a large platter of BBQ 100% beef burgers and chefs own gourmet sausage, as well as a tasty vegetarian alternative of BBQ pulled jackfruit and couscous. There was also a large platter of grilled vegetable and halloumi wraps and plain vegetable skewers. Also on offer was chef's choice of 3 salads, one of which was a hearty dish of fresh coleslaw. Finally, rounding off the buffet was a large platter of chips and a large basket of soft wraps and rolls and an assortment of sauces and dips.
The buffet was a roaring success. The hungry quiz-takers tucked into the tasty dishes with gusto. The meal had been a massive success and a whole lot of money was raised for charity too, so it was a double bonus!
Client Sonya thanked the team for their hard work. The night had been great fun.