Fans of the legendary Eurovision Song Contest were thrilled to see the world's longest-running annual televised music competition back on their TV screens for another compelling night of hilarity, iconic performances and more notably, European unity!
In the UK alone, millions of people tuned in to watch as the competition unfolded, and not one's to do anything by half measures, Cameron and his family of Eurovision enthusiasts, had organised a party to mark the special occasion.
With this being the family's first Eurovision party since the pandemic began, they were determined to make the most of the evening. And so, they had purchased lots of fireworks ahead of the date, invested in lots of Union Jack party decor and, most importantly, they had hired Hog Roast Tankersley to serve a tasty hog roast spread!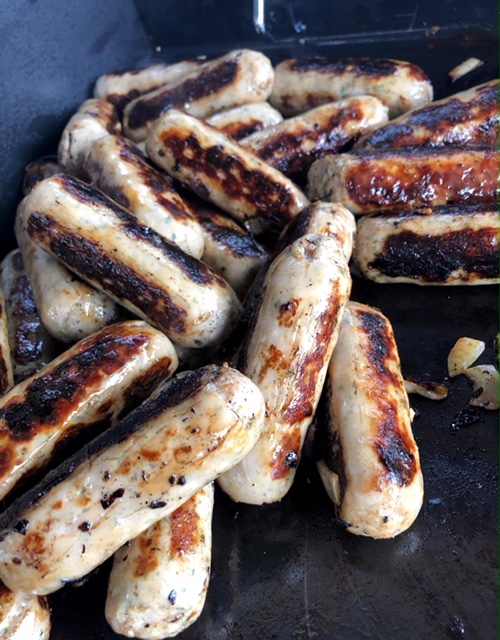 Our team was over the moon to be included in this celebration and preparing to feed all 50 guests on the night, they made sure to arrive at the client's home hours prior to the serving time. Making every minute count, our catering manager, Marcus, expertly grilled the full-size pig on the Hog Master, along with 100% British beef burger patties and butcher's sausages. Meanwhile, the rest of the Hog Roast Tankersley catering crew focused on rustling up a batch of mixed fries, preparing the gourmet coleslaw and chopping vegetables to make the fresh salads and grilled vegetables skewers.
With the food handled, the team quickly set up dining furniture underneath one of our marquees and laid out the eco-friendly bamboo cutlery and crockery on the serving tables along with a row of condiments, dips and a huge basket of rolls, wraps and pitta breads.
Cameron was overjoyed with the mouth-watering buffet that Hog Roast Tankersley presented him with! The only thing left to do was start the celebrations, so everyone found a space to sit in the back garden and watched the Eurovision contest on a projector screen.
Cheers erupted when Ukraine was announced the winner, with the UK coming in just behind them in second place! Cameron let off the fireworks in celebration while Hog Roast Tankersley presented everyone with a slice of cake dressed in ripe berries and fresh cream.