Summer just wouldn't be complete without a BBQ, now would it? But luckily for our clients, we at Hog Roast Bamford have more up our sleeves than, well, hog roasts! While spit roasted pigs might be our speciality, we also pride ourselves on offering an inclusive service which means you can put together your own bespoke menu by combining dishes from across our wide selection of catering packages.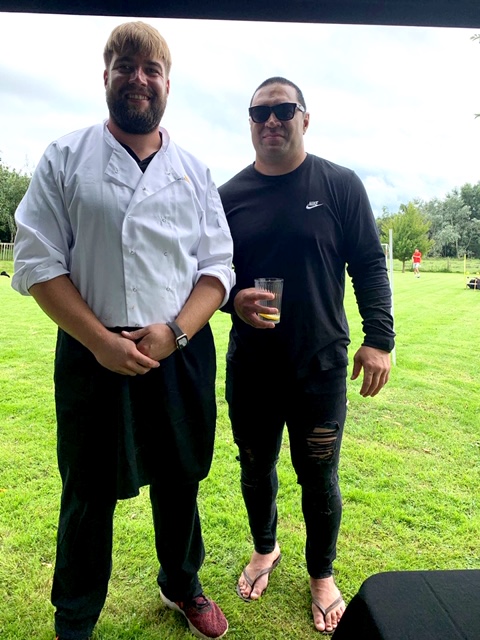 Our team is so devoted to what we do that we will often travel further afield to ensure that our clients – wherever they are in the country – can experience our tasty grub. On that note, we can't wait to tell you all about our most recent event, which turned out to be an unforgettable day, not just for the client but also for our catering manager Marcus!
After being asked to serve a BBQ outside of our usual vicinity, Hog Roast Bamford made the trip towards the location on Saturday. Upon arriving at the destination, the team were greeted by a huge modernised farmhouse with perfectly manicured lawns from which sprouted hundred-year-old trees as far as the eye could see and tall hedges which provided some privacy for the intimate event.
The catering team had decided to set up near the makeshift football pitch, and using our Hogmaster Pro they expertly grilled the BBQ 100% beef homemade burgers, chefs own juicy gourmet sausages, Thai chicken kebabs and sticky ribs, along with the meat-free alternatives of grilled vegetable and haloumi skewers and BBQ pulled jackfruit. For the side dishes, they served platters of mixed salads and crunchy coleslaw with gluten-free rolls and a collection of sauces and dips.
And who was this drool-worthy feast for, I hear you ask? Well, believe it or not, our client was none other than legendary, Leeds Rhinos prop Kylie Leuluai! Determined to make the most of the good weather, the sporting heavyweight had entrusted us Hog Roast Bamford with his family gettogether and we're happy to share the team nailed it!
The weather was amazing all afternoon and after everyone had, had their fill Marcus even managed to get a quick pic with the client. After all, it's not every day you get to meet a real-life celebrity!