If you're thinking of treating your guests to a hog or spit roast, you simply can't go wrong with Hog Roast Deepcar, as our experts have spent years creating the food that you've been dreaming of. We designed the top-class stainless steel hog roast machines that we use when catering ourselves, and we build them by hand in our own factory, and while they are perfect to cook a sumptuous hog roast or a divine spit roast, you may be surprised about what else we can cook with them too. They work like normal ovens, so if you want a full meal cooked, like tasty meat, potatoes and vegetables, we can roast the meat above while cooking the rest of your food inside, and we can also barbecue burgers, sausages and ribs with our attachment and even cook pizzas inside.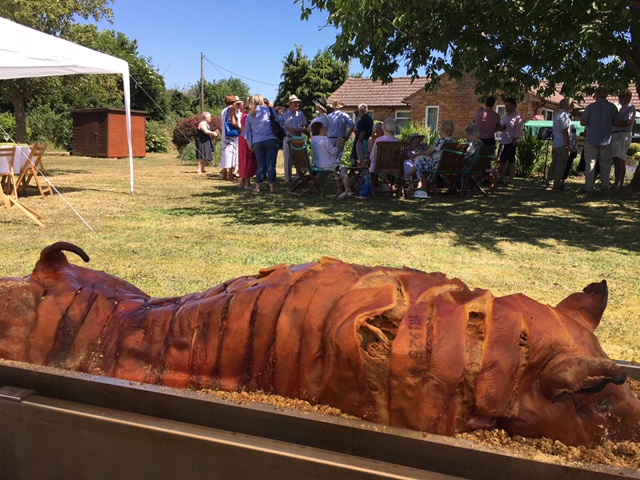 Another thing that may surprise you about Hog Roast Deepcar is that we don't only offer hog and spit roasts to our customers. We have plenty of other dishes available if needed, like starters, desserts, sides and canapés, as well as special menus like our festive and winter warmer offerings, plus options for special diets like vegetarian, vegan and gluten-free. Whatever you have in mind, whatever kind of special occasion you need catering, we will help you to host something decidedly special, and your guests will be talking about the food served for a long time to come.
When Stu asked Hog Roast Deepcar to cater his business function, he knew he wanted us to make our amazing pigs in buns, made fresh from a mouthwatering hog roast, for most of his sixty guests but he also needed his vegetarian guests to have a main of their own too. With options including veggie burgers, quiche, stuffed mushrooms and peppers, Stu said he was spoilt for choice, but he thought our lovely veggie skewers would do the trick. Full of halloumi, peppers, mushrooms, tomatoes, courgette and red onion, vegetarians can't get enough of them.
On the day of his event, our team cooked up a storm and by the end of service, everything had been stripped clean, both the carnivores' food and the vegetarians' and we were inundated with compliments.