Lucky local business has timed Hog Roast Swinton's BBQ menu perfectly with the sunny weather over the last few days! As soon as the weather turned warm, the smell of BBQ's blazing in gardens was heavenly, the mood automatically changed to an upbeat and happy one. It has also helped colliding with Boris roadmap and being able to see 6 people or two households in an outdoor space.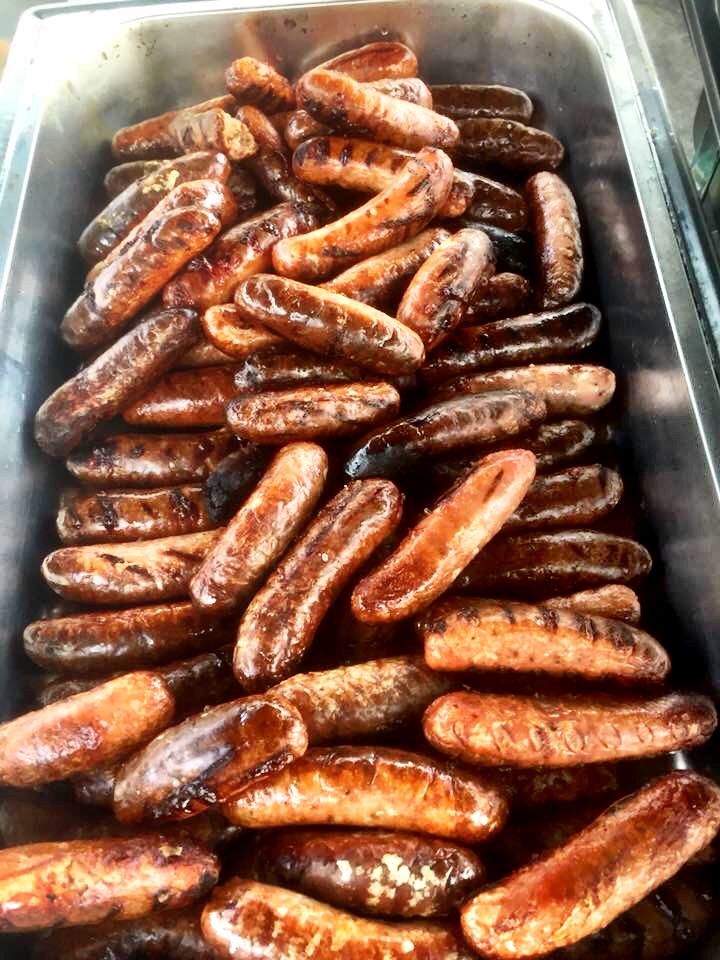 Business owner Daniel wanted to give his staff a special treat and opting for an incredible, meat-heavy menu that thrilled all the guests! The menu entailed handmade 100% British beef burgers, flavourful homemade sausages, colourful chicken kebabs and BBQ spareribs. A meaty delight! To accompany the tasty meat options, a selection of indulgent side dishes have been chosen: fresh Greek salad, crunchy and creamy coleslaw, and chips, fried fresh on site.
The first item on the BBQ to be cooked was the vegetarian option halloumi kebabs. A skewer filled with colourful and tasty Mediterranean vegetables and delicious halloumi chunks coated with Cajun spice. A party in the mouth filled with both flavour and texture! These went down well with a light wrap and a drizzle of sweet chilli sauce.
With a half 1 serve, the sun was shining, and people enjoyed a social distanced BBQ picnic on the car park. The 100 staff particularly enjoyed the succulent chicken kebabs that had been marinated in a lemon, chilli, and garlic seasoning. Cooked but left with a little bit of crunch, peppers and red onion slices joined the chicken creating an ultimate skewer! People were thrilled that they were allowed a bit of everything and loved having more options than the mundane burger and sausages that a BBQ usually consists of even though, Hog Roast Swinton was complimented on the flavour and how tasty the burgers and sausages were!
The Greek salad was a hit like always, with fresh juicy plum tomatoes, quartered cucumber chunks, mixed pitted olives, drizzled with extra virgin olive oil, seasoned with sea salt, and cracked black pepper, finished with crumbled pieces of feta, and topped with chunks of feta – delicious!
A successful event for Hog Roast Swinton who look forward to the promised repeated work in the future.