There's no greater excitement for a young child than their birthday party! Hog Roast Dodworth were very excited to be working with their latest clients to provide a fabulous buffet for their birthday girl, their seven year old daughter and her friends.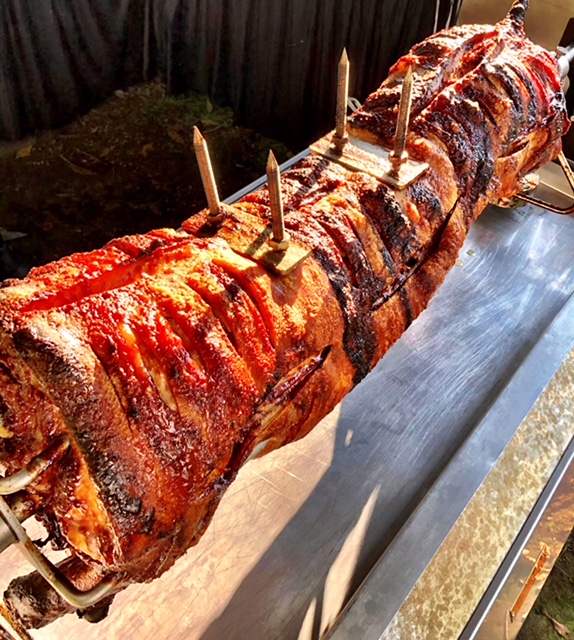 The clients wanted the menu to be fun for the kids, but also have enough variety to feed the grownups who had brought the children to the party too; the clients wanted food for all. They worked closely with the Hog Roast Dodworth team to put together an exciting menu that would delight the 20 guests and their parents/care-givers who would attend the party with them.
The Chef from Hog Roast Dodworth arrived at the town hall venue several hours before the 3pm serving time. This was so that the Chef had enough time to set up the outdoors catering gazebo, lights and equipment before getting to work on preparing all the delicious dishes fresh on site.
The main attraction at the buffet serving table, that was bedecked in bright pink table cloths that had been provided by the clients, was the BBQ 100% Beef burgers and Chefs own gourmet sausage. The aroma of sizzling meat drew the guests to the buffet table at 3pm on the dot. The serving table also had a bowl of shredded cheese (so the kids could make cheeseburgers), and assortment of sauces, platters of fresh coleslaw, soft floured rolls and a mountain of jacket potato wedges that the kids and the adults jumped straight into!
Once the kids and grownups had had their fill of the buffet the Chef quietly tidied away. The disposable crockery and cutlery the Hog Roast Dodworth team had provided was gathered and taken away from the venue by the team, so that it could be disposed of responsibly.
The whole event had been a great success. The birthday girl, her guests, their adults and the clients were all absolutely delighted by the tasty buffet the team had put together and said they'd definitely be using Hog Roast Dodworth again for future events