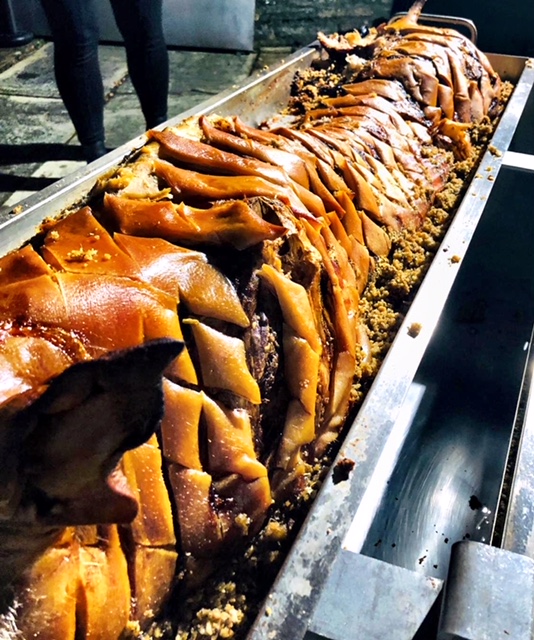 The Hog Roast Beighton team are able to give you the ultimate hog roast experience and your ideal menu for any event you are planning in the Beighton area. We are at the forefront of hog roast catering in this part of South Yorkshire and that isn't even all that we offer. In addition to treating you to slow roasted pork of unrivalled quality, we are also able to provide sleek, contemporary menus that are suitable for any occasion.
Our ethically reared pork is always prepared on-site, regardless of the location or size of your venue, or how many people we are cooking for. Whilst our skilled on-site chef is taking care of the meat as it roasts slowly over several hours, the rest of our intrepid catering team will be hard at work creating the rest of the tempting dishes on your menu, utilising the finest locally sourced ingredients available. All of our buffet and 3 course meal menus are comprised of a variety of different slow roasted meats, giving you the option to try some of our free range whole roasted chicken, succulent sirloin of beef or tender spring lamb for example, if pork is not your number one choice or you would like a second meat choice. Our menus are also packed full of dishes that offer both traditional and more contemporary flavours and styles, as well as an impressive selection of vegetarian and vegan options.
Trust The Experts From Hog Roast Beighton
Hog Roast Beighton's extensive and varied menus are perfect for so many different types of events, including wedding receptions, annual community events, birthdays, christenings, anniversaries and office parties. We are able to freshly prepare your chosen menu in any large outdoor environment or more intimate indoor setting anywhere in Beighton whilst always adhering to our own very exacting standards when it comes to the preparation and presentation of your food. We are just as meticulous about the level of service we provide and whether you would like a self-service buffet or a more formal 3 course meal with table service, you and your guests will be in excellent hands from start to finish.
Our hog roast expertise, innovative approach to catering and commitment to quality make the Hog Roast Beighton team the ideal catering option for any event in Beighton.