For a seasonal treat this Christmastime, Hog Roast Barnsley can serve up a great feast for your private or corporate party and we're sure that it'll certainly impress your guests from start to finish. Whether you're organising a small family get-together in your back garden, a work party in an intimate venue or a large corporate event, we've got you covered, with plenty of delicious homemade food that will get everyone's taste buds tingling and get you all in the Christmas spirit.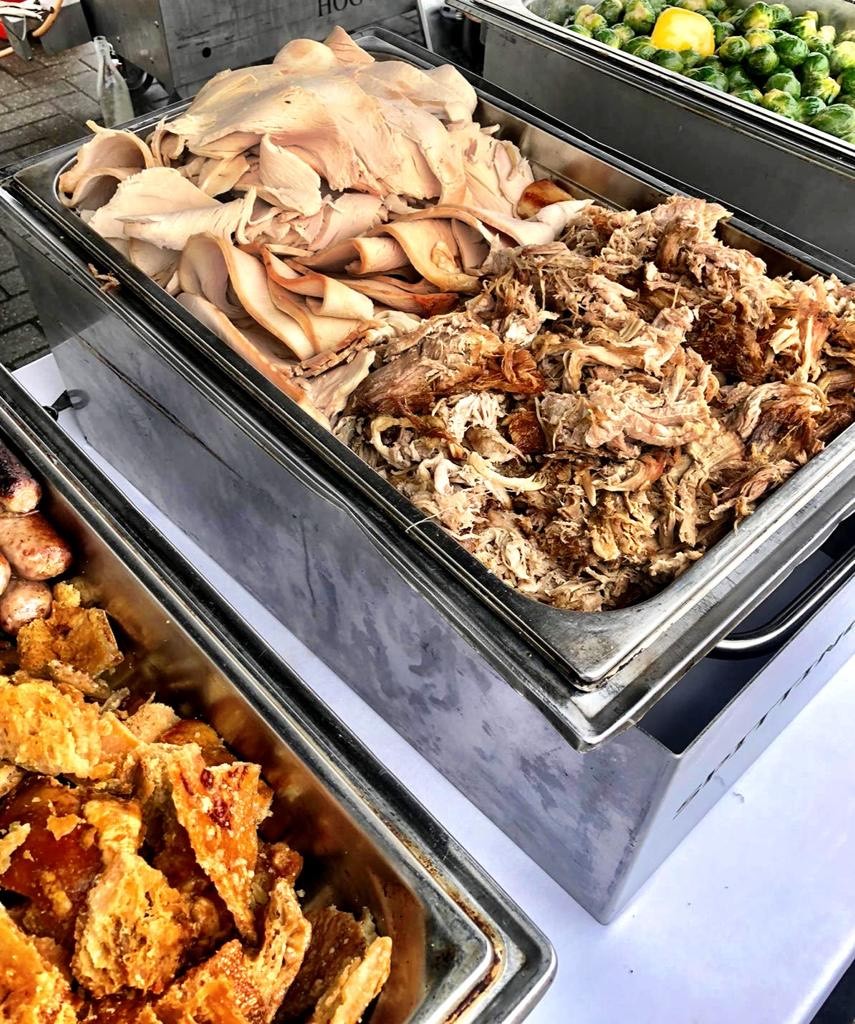 With this amazing Hog Roast Barnsley menu, only seen at this time of year, you not only get a choice of meaty mains, but you also get no less than seven sides to devour alongside it, as well as all the trimmings you'd expect, plus traditional mince pies and brandy cream to finish off your meal perfectly afterwards.
For the main feature, choose from either traditional whole turkeys, accompanied by fresh cranberry sauce and stuffing or a free-range hog roast centrepiece, complete with crunchy crackling, apple sauce and stuffing. Once slowly roasted over flames for hours in end, resulting in tender, moist meat, we serve together with pigs in blankets, garlic and rosemary new potatoes, homemade cauliflower cheese, glazed sprouts, green beans, peas and Chantenay carrots, and smother in our homemade gravy. It's a taste sensation that your carnivore guests will love!
Nevertheless, Hog Roast Barnsley truly understands the need for alternative dishes, and our festive menu comes with a gorgeous homemade vegetarian main if needed – halloumi and vegetable wraps, served with a Tzatziki dip. For a corporate event that we were asked to cater recently, our customer decided on our festive menu, featuring a scrumptious hog roast for the main, but also the veggie main too, so that everyone invited could enjoy the Christmas treat.
Early morning of the event, our chef and assistants cooked up a storm with a fresh, high-quality free-range hog and then later with so much other food. Nearer to the time of the lunch meal, we grilled the halloumi, mushrooms, tomatoes, courgette, peppers and red onion for the wraps and then we were ready to set out a great feast for all the guests, with so much food that it was a struggle to fit in the lovely mince pies at the end. But everyone somehow managed!